I got my first mountain bike in 1994 at the age of 16. It was a chromoly Trek 930 STX with Shimano Grip Shift that had recently hit the market. I loved that bike deeply and spent every free hour I had on the trails of my Northern Ontario hometown. The riding up north was fantastic, except for one missing thing—a solid mountain biking crew. I felt like the only MTB rider in my town and much of my riding was done solo.
When I wasn't riding, I was pouring over the photos of Mountain Bike Action magazine. The 90s saw an explosion of innovation in cycling. The MTB bikes of then look a lot like the gravel bikes of now: rigid, aggressive geometry that caught the eye. To say it plainly, the bikes were sexy. I had posters of them plastered on my walls. Those rigid, short reach bikes changed my life.
This is why I almost spat out my milk when I came across Ben, aka @VintageBikerCom, on Instagram. Ben is rebuilding beautiful 90s mountain bikes, and coming across his feed transported me to my childhood. His bikes are stunning builds that could have graced the cover of any 90s mountain bike magazine.
Just like those magazines, I caught myself spending hours pouring over the details on the @VintageBikerCom feed. I had so many questions—like, how is it possible to source these old frames and parts?! I had to find out...
What is "Vintage Biker" exactly?
That is a good question… as a matter of fact I still haven't found out myself and I kinda like it that way. VB is an ongoing process, a platform on which I can express and show my creativity. Basically VB gives me a chance to blend various interests like (vintage) mountain biking, nature, music, graphic design, etc. I allow myself to create, free from constraints. In a deeper sense, VB is therapeutic for me.
How and when did you get started?
In 2014, after a somewhat troubled period in my life, I took up mountain biking again. I dusted off my 2001 Merlin XLM, and just got moving. Whilst looking for spares, I found out that I was more attracted to 90s bike parts than the usual modern components. I started MTB-ing in the 90s, and (like Barry) was mesmerized by the glossy magazines.
So I started collecting vintage mountain bike parts. First a GT Zaskar frame came, then a Xizang after that… and from that moment, I was lost ;)
How do you source your parts? Where does it all come from?
I get this question a lot... basically my "sources" are accessible to everyone. I usually stick with Ebay (really) and a handful of other online marketplaces, both national and international. I spend a lot of time sourcing parts and have learnt how to find the diamonds in the rough. I am also lucky enough to get people offering me old parts through my Instagram feed.
What is your favorite vintage mountain bike?
That's a tough one. Generally the bike I am working on at that moment is my favorite. However, if I had to choose one, it has to be the GT Xizang, with its sexy smooth titanium triple triangle design. A proper Xizang represents all I ever lusted over in the 90's when it comes to bikes. Building up a Xizang is always a feast!
Do you have a process for your builds?
I usually start with a frameset—a combination of frame, forks, wheels, tires, and cockpit that I like. From there I add, one by one, parts and components that I think match the build. Making sure the build stays true to the period is important, but it's not everything. A mid 90s frame with late 90s forks or wheels: Sure, why not? This is what we did back in the day. We bought ourselves a proper base and when money was available, we upgraded, right?
My goal is never to build a bike as quick as possible, hence the hashtag #loveunfinishedbikes that I use often.
How do you choose a build kit?
A build kit has to match the frame. Period. Aesthetics are prioritized over functionality—at least with the builds I show to the public. As I mentioned earlier, there has to be some period correctness (within half a decade roughly).
Colors are important, as they need to match in some way. But this is a very personal thing. Grellow vs. Yellow, for example, is an absolute no-go for me. So no Judy SL's combined with RaceLines.
"It's important that a bike is balanced, from setup, to colors, to shape... similar to car design"
Matching brands is important as well. During a build, I try to use full Kore or full Syncros. Full XT or full XTR. This gives the bike a kind of coherence. And of course decals, which I make mostly myself. Creating the decals myself allows me to put my creativity and taste into a build.
Do you see any trends making a comeback from the 90s?
Yes, manufacturers are often reverting to fads from the 90s. For example, skinwall tires. Also nowadays, companies like RockShox use a lot of heritage in their designs. The characteristic blue color of the first generation 1998 SIDs are still an option on modern 29er SIDs. Other examples of re-issues are Panaracer Dart/Smoke tires and, of course, the Selle Italia Flite saddle.
When did you open your shop?
The "shop"—as you (and many of my followers) know it—with the RockShox wall and Syncros rack, opened April 2020. It wasn't really a shop but more like a storage and showcase of my growing collection.
I moved at the end of last year to a new location, which I am currently rebuilding into a Workshop and Gallery.
Who are your customers?
My customers are from all over the world. I regularly ship to the USA, Australia, NZ, Asia and also within Europe. My customers value quality and also share my passion for vintage mountain biking.
Where is your new shop located?
This new VB HQ is located in Apeldoorn (about 100 kms east of Amsterdam) at a former factory site where a Dutch cosmetics company called Zwitsal was established. Nowadays, this factory site is like a breeding ground for Dutch creatives.
Do you do custom builds for people? If so, what does that process look like?
Custom building is one of the best parts of the job! Spending time discussing colors and components over a cup of coffee or a beer is always a good thing.
I did a LiteSpeed Ocoee Project once for a customer who actually didn't know what to do with the bike. He was planning on selling it, but once he came into my store and saw the matching parts he knew he was going for a rebuild! We built that bike with a modern twist: a 1x9 XTR M950-Garbaruk drivetrain.
I do not build a bike on command. "I want this and that and you build it for me" will not work in my shop. Like any passion, custom builds require a thoughtful and nuanced discussion. These are bikes we are creating, but I try to think of them as rideable pieces of art too.
Thanks, Ben.
A part of me pines for the past. Maybe because I am getting older. Maybe because I know that my days of flying off drops and jumps are well behind me. Maybe I simply miss being a teenager and staring at those old MTB magazines. Whatever it is, I am happy people like Ben are working on projects like @VintageBikerCom and maintaining a piece of what originally made the MTB world cool.
Get in touch with Ben through the @VintageBikerCom Instagram account or his website.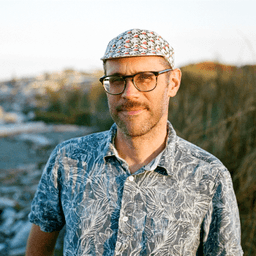 Consider Supporting Our Team
Bike Gear Database is a grassroots community of riders. We make content because we love doing it. If you found this article helpful, you can support the author directly by hitting the button below.