Earlier this summer, I spent a few hours sitting on a rock looking out at the ocean near my home when some words hit my brain, "I want to live. I want to learn. I want to be in the forest on a bike". It was like the words were spoken to me. I quickly went home and updated my website with my new mantra and a photo of the view I had at the time.
This summer I was planning to do a big bikepack trip through Utah and Colorado with my friend Andy. But sometimes life throws you a curveball and things don't work out as planned. Instead of dwelling on the disappointment, Andy and I decided to stay on the island and try out the Northern part of the Tree to Sea Loop. As it turned out, staying close to home was more in tune with my new mantra—this summer, the forest is where I needed to be.
Andy is an old friend that I reconnected with after moving to Vancouver Island. We used to both live in downtown Toronto, and both had very different lives. We were young and focused on our careers, living the big city life. Over a decade later, we find ourselves with a lot in common beyond where we live. We are older, we have families with children of similar ages, and we are both non-drinkers. Andy was born and raised on the island and knows it like the back of his hand, and this will be our second ride together. (Two summers ago we tied together the Cowichan Valley 8, the Lower Sunshine Coast, the Powell River Sampler, the 10 Lakes Overnighter and the Englishman River Overnighter into one massive loop that started and ended in Victoria.) Even though Andy is an ultra-runner and much faster and more powerful than myself, we make a pretty good bikepacking team. We keep it pretty loose and like to make quick decisions on the fly, rather than simply following a line.
On this trip, Andy introduced the idea of Kismet to me: the idea that everything is fate and that the universe will provide when something is needed. Kismet seemed to fuel this trip: we met unexpectedly interesting people when things were quiet, we found streams and water sources just as our bottles ran out, the list goes on and on on. It felt like we were being guided by something more than our own instincts.
A Note On The Route
Last summer, my buddy Rob (aka Salty Beard Bikepacking) and I did an eleven day trip through the mid section of the island. Apparently, some of our route helped inform the decisions made by Miles at bikepacking.com when they created the Tree to Sea loop. Because Rob and I didn't complete the top part of the loop, this year I wanted to tackle it. We took the Tree to Sea gpx, cut off the lower half and reversed it. Andy wanted to start with a beach camp at Cape Scott, and I had no reason to object. See our version here and the full route here.
I'll just say it: the Tree to Sea Loop is no joke. Looking at the gpx file doesn't really give you a real understanding of the loop's elevation. All the gain is tough, hard-earned elevation with super punchy climbs. If you put together chonky tracks, major dust clouds, speeding logging trucks, visible wildlife, and (for us) some serious heat… you get the picture. It's not an easy one. But one that rewards with endless beauty and pristine gravel.
A huge shoutout to Miles and everyone that contributed to the route. This trip made me realize how much research and riding must go into something of this scale. Let's go…
Day One - Victoria to Cape Scott
Andy showed up in his truck right on time. The crack of 5:30. As usual, my pre-departure sleep wasn't great and I was super tired. The coffee wasn't working, but I was excited and ready to hit it. The sun was just breaking over the mountains as we headed over the Malahat highway, a beautiful stretch that connects Victoria to the rest of the island, and the morning light over the inlet was a postcard picture. In Campbell River, we stopped at an outdoor store and bought some bear spray and a Garmin inReach. Two items, I stupidly have never carried with me on past rides. We ate lunch in a wonderful little diner that seemed frozen in time called the Ideal Cafe.
After a couple more hours of driving we arrived at Port Hardy, our starting point. We activated the Garmin and hit the road. By "road" I mean dusty logging dirt road with seemingly heavy traffic. It was also 1:30 pm, and the sun was at its most intense. (Homicidal is how Andy and I classified it.) And thus started the first of many big hot grinds.
By mid afternoon we arrived sweating and panting at the small village of Holberg, where we stopped at a local, well-stocked convenience store. The store had some fun art installations outside and the owners were super friendly. We ate all the cold things we could find and headed out for the final push. Leaving Holberg, there was a slight detour as they are working on a new section of road leading to Cape Scott.
Another 20km got us to Cape Scott where we needed to walk our bikes down from the parking lot to the beach. The 2.6km walking trail is a stunning stroll through behemoth trees covered in moss. Even though I live on this island, these old growth trees never cease to amaze me. They look like a set out of a Star Wars film and I was expecting to bump into an Ewok at any moment. The trees eventually opened up to one of the most beautiful remote beaches on the island. By this time things were cooling down. We set up camp, made dinner, and chatted until the stars came out. Not a bad start.
Day Two - Cape Scott to Marble River
It was my first time camping on a beach so I'll go ahead and recommend it to anyone who hasn't done it. Closing your eyes to the crashing waves will knock you out cold in seconds, especially after a long, hot day in the saddle. Waking up, we needed water for coffee and breakfast. I'll never stop feeling surprised at how you need to seek out (fresh) water in spite of the ocean right in front of you. The water source ended up being a small mountain stream on Cape Scott's second beach, only accessible when the tide is out. Walking to the second beach brings you through some amazing rock formations with bonsai-like spruce trees growing from the tops. The whole scene seemed almost alien to me—how could something this beautiful even really exist? As Andy and I sat drinking our coffee, we watched an eagle rob an osprey of its fish breakfast. It turns out, eagles are jerks.
On the walk out, I realized some of the super fine beach sand was in my sock which quickly blistered my heel—oh no. I had brought my rubber Birkenstocks (which we jokingly dubbed the Crockenstocks or Birkencrocs) with me as camp shoes. They aren't the smallest thing to pack and I'm not even sure why I brought them, but thank god I had. I wasn't going to get far with my SPD shoes and a blister. I had not biked in sandals (or even on flats) since I was a teenager, and I had my doubts. But I wasn't about to let a blister kill this trip for us.
We stopped for lunch at the Scarlet Ibis Pub on our way back through Holberg. A fantastic old school pub that has been there (and not renovated), whetting the whistles and appetites of loggers, since 1979. The food was fantastic, and we met Ken—a super likable American from Atlanta who shared his story about how he had made (and lost) a lot of money. He believed that too many people let life pass them by while focused on financial gain... and we agreed.
After lunch, things got tough. This may seem obvious to most, but starting a ride at 1:30 pm in 30°C weather, with a 50 pound fully loaded bike is not a great idea. I'm not going to lie, I was suffering for the next 40km. (Also FYI, in Canada we use mostly metric measurements but the odd imperial unit shows up in our vernacular; apologies for any confusion.)
When we arrived at Coal Harbor, Andy suggested we stop at a local convenience store and we are lucky that we did. We had somehow started following the wrong line and the owner told us we needed to backtrack a couple kilometers and gave us some advice on places to camp for the night. As the sun lowered, the riding got much easier and our moods elevated. We decided to push to Marble River Campground where we refreshed ourselves in the mountain river rapids, ate dinner and hit the hay nice and early.
Day Three - Marble River to Atluck Lake
We started our day with some instant oatmeal and fresh huckleberries that were growing on a bush in our campsite, and were ready to get going. We had decided to take a shortcut into the town of Port Alice to get some supplies. We hoped that the shortcut would allow us to make some longer distance during the day by sticking to the highway and skipping about 24 km of gravel that followed the inlet. This turned out to be a mistake. Being on the pavement doesn't mean that things will be easier. In the end, we may have shaved 4-5 km but ended up climbing some serious paved grade roads to do it. We were wiped by the time we got to Port Alice and my instinct says we may have missed some awesome scenery in the process. Boo.
In Port Alice, we stopped at Foggy Mountain Coffee Shop where we met an older Quebecois man named Jules who has lived in British Columbia for the past 50 years. For over an hour, Jules unleashed some serious life wisdom on us. Jules touched on some of the big themes that Andy and I had been discussing over the course of the trip: ideas like "breath is the key to life" and "slow consistency is how things get done". Jules was 71 years old and looked like he was in his mid-fifties, so I will reflect on his insights for a long time.
Bing! Now it was lunch time, and Barry and Andy (who apparently hadn't learned their lesson about heat stroke) set off straight up into the mountains in the murderous sun. Along the way we passed Lake Alice and stopped at Canada's largest cenote, called the Devil's Bath—a sinkhole measuring 359m around and 44m deep. The temperature was off the charts and Andy and I sat down in the shade for a few minutes before a spanking new Subaru pulled up and a fresh-looking couple got out. They quickly pulled out a drone and started filming the cenote while telling us all about their outdoor inspired Instagram feed. I felt like a hot mess of an ogre.
The heat was getting to me pretty bad. I had a moment where I needed to get out of the sun and stop the endless climbing for a bit. I had never had heat stroke before, but I was feeling weak, shaky and nauseated, so we stopped at a rest spot on Kathleen Lake to gather ourselves in the shade. Andy was great about it and had found an option to get us back to town pretty quickly. We honestly considered cutting the trip short due to the heat for a quick minute, but ultimately we knew we would be angry with ourselves if we did, so kept moving forward.
And what a choice that turned out to be. From that rest spot we had a 17km climb straight up to 430 meters in the blazing sun. Andy was carrying two bottles and I was carrying three. More than once we stopped at streams to filter water and fill the bottles during the climb. However, near the top of the pass, we had both run out of water again and couldn't find a water source. "Parched" does not do justice to how we felt at that moment. But then… we found it! The river that (almost) turned me religious. A heavenly mountain river with the clearest flowing coldest water I had ever seen. Where did it come from? Who put this here? We asked all the questions... or, kismet?
For the entire climb, we told ourselves that there had to be a huge bombtrack on the opposite side but it didn't quite turn out like that—at least not immediately. The logging road networks on the island tend to be connected by smaller backcountry doubletrack roads and these can get a little chonky. We spent the next 20km having a rough descent on thick and loose gravel and I almost ended up over my handlebars more than once.
However it finally did open up, and we finally found our downhill that we so deserved. At the bottom of the mountain we had another 20km to get to our campsite, which we rode mostly in silence, respectful of each other's pain. This last stretch followed the north side of Atluck Lake on what seemed to be a newly created logging road. Atluck is one of the most beautiful lakes I have ever seen with huge cliffs that reach down to the water from snow-tipped mountains. Even though we were hurting, we could still appreciate the beauty as we rolled into camp.
And also, the Birkencrocs performed magnitudes better than expected. I have to say, I was even learning to enjoy cycling in them.
Day Four - Atluck Lake to Telegraph Cove
On day four Andy and I were up before anyone else in the campground, and unsurprisingly, an early start made for a much better day. We were out of the campground by 7:30am, knowing there was another big climb ahead of us. This one wasn't as big as the previous day, but looking at the route data, it still seemed like a doozy. We got to the base of the climb by about 9:00am and hammered up. However, four days of riding hard in extreme heat and dusty gravel roads were catching up to us, and we were both starting to feel tired. Thankfully the opening climb was the only real climb of the day. Most of the ride after that was downhill all the way into Telegraph Cove. Woot.
On the way down we ran into a father and son team from Virginia who were doing the Tree to Sea and were in their last couple of days on the loop. We had a great chat and exchanged some notes on the roads ahead. Meeting them really got me thinking about the impact the Tree to Sea Loop has made on our island. Until meeting the dad and son team, I assumed most people riding the Tree to Sea were locals or people from the immediate region. Turns out that's not the case, and it's attracting people from all over the world. Incredible.
Continuing on, we had a mini rest at Ida Lake (stunning!) and then rolled the final 13km down into Telegraph Cove. Telegraph Cove blew me away with its historical houses and boardwalk. We found a spot in the Forest Campground and set up camp before wandering into town. Andy and I sat for two hours and simply watched the marina traffic. There was a sense of serenity to the scene that caught me off guard. The boats coming in, people cleaning their freshly caught salmon at the cleaning station, the wild mountain range across the strait in mainland B.C. I could have sat there forever. Instead we opted to go down to a small cove a short hike from our campground to try and spot some local black bears. Andy and I have yet to see any bears on our adventures together, which we both agree seems very unlikely considering the areas we like to bikepack through.
Also, the Birkencrocs are rad.
Day Five - Telegraph Cove to Port Hardy (and home)
We woke up early and got destroyed by mosquitos while decamping. A last minute decision to keep the cycling light kept us on the tarmac and skipped a few sections of the Tree to Sea route. After four days of hot, heavy grinds we both needed some easy pedaling. This turned out to be a fantastic choice and a wonderful day. The stretch of highway between Telegraph Cove and Port Hardy has nice wide and rubble-free shoulders that seem to roll like a wave. There was relatively little traffic compared to most places on the island, and being closer to the ocean cooled things off a bit.
We stopped at Mugz in Port McNeil and I had literally one of the best breaky sandwiches of my life. If you find yourself in Port McNeil do yourself a favor and stop at Mugz. Another 40km on and we somehow got back to the truck and piled in for the trip home.
Some Final Thoughts
Spontaneity is essential to bikepacking, and really any adventure. On the spot decisions, or following some friendly advice, always seem to fork into the unknown and make for the best memories. Looking back at our trip, anytime Andy and I followed the Kismet, we were rewarded with deep interactions and rich conversations with people, the best food, and the unending beauty of our island.
As I mentioned earlier, The Tree to Sea Loop is no joke. In its entirety, the loop is a 1000km of endless pristine gravel and awe inspiring natural beauty. I feel lucky to have had the opportunity to ride the majority of the The Tree to Sea Loop—last year with Rob on the south loop and this year with Andy on the north loop. I did not experience it the way it was designed by the team at bikepacking.com, but I suppose that's ok. The Tree to Sea Loop is a launch pad for so much of the greatness that is Northern Vancouver Island.
My only suggestion? Try to do it when the world isn't locked in a heat wave.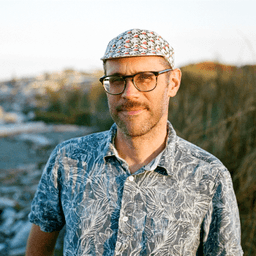 Consider Supporting Our Team
Bike Gear Database is a grassroots community of riders. We make content because we love doing it. If you found this article helpful, you can support the author directly by hitting the button below.